Tell Others About SMRBA and Be Rewarded!
Earn $20 or $30 for Each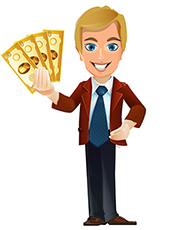 Referral
Here's a little something extra. If you're up to telling others about SMRBA we'd like to put a little money in your pocket. As a member, you can earn $20 for each new Cornerstone or Executive Member you bring to the group. Earn $30 for each Presidential Member you refer. You can take the cash or apply each referral fee to upgrade your own membership or stack your commissions for later to purchase additional marketing services or future SMRBA merchandise. This choice is yours.
It's simple and easy to refer SMRBA and get the cash. Just let us know. We'll assign you a clever and unique referral code. Tell your prospective member to use that code when signing up or communicating with us. (Example: Member Paul McKeen's referral code is MCKEEN.) Each time we see your referral code come across and a member signs up, you get the cash or the credit.
Start Promoting and Start Earning!
The SMRBA Referral Program is a great way for members to help us spread the word and get a little something to help pay for your membership. A quick look at the numbers and you only need 10 referrals to completely cover an Executive SMRBA membership. Remember, the more members we have the more we can do. It's fun and easy to tell others about SMRBA. So become a member, connect with us and get your Referral Code, and start earning cash and credit with SMRBA.
Members Get Your Referral Code and Start Earning!