On November 5th, the Mesa Arts & Crafts Festival (MACFest) chose a Festival Favorite, our newest SMRBA Member, Janis Colbath of Grandma's Cookie Company.
Janis had been a Financial Controller for many years. She loved working with numbers and running financial teams. About three months ago she was in her office listening to a bully of a boss have yet another tantrum because things weren't going his way and she just had had enough. She decided she wanted to do something fun so she left her job and started Grandma's Cookie Company.
She has baked cookies, rolls, sweet breads, candy and other deserts since she was a little girl, learning from her Mom. Her mother baked mouthwatering goodies and when she would ask her how to make one of her recipes she would answer "now Janis, you've watched me do that dozens of times." "Mom rarely used recipes adding ingredients by guess and managed to produce the most amazing pies, cookies, breads, etc." Her goodies are not all exactly like her mother's because she too has a habit of altering recipes and trying new ways to bake. Her mom passed away, but she has her recipe box and she's sure she would love to be with her in the kitchen as she bakes and runs Grandma's Cookie Company.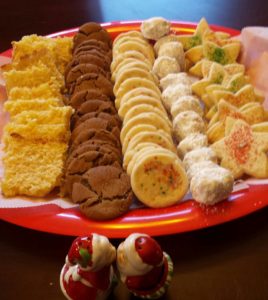 She works out of her home in San Tan Valley. She does custom orders that can be picked up or delivered to your business or home. Contact information for orders: Telephone: 480-737-1729 Facebook@grandmashomebakedcookies Email: janiscolbath@msn.com
You will be able to sample her delicious talents and many others at the next Festival which will be held November 19th 2016, from 10 am to 4 pm. Our regular schedule is 1st and 3rd Saturdays, October 2016 thru April 2017. The festival is located on N. MacDonald Street between Pepper Place and Main Street. The street on N. MacDonald is closed to traffic, but parking is available all around the downtown Mesa area.
Mesa Arts and Crafts Festival is a free event featuring unique artist creations, music, and fun for the whole family. The Festival features the work of established and emerging artists and crafters including woodworking, metal crafts, food items, jewelry, photography, handmade soaps, gift items, ceramics, and so much more.
For more information about MACFest, visit the website at www.macfestmesa.com. Artists & crafters desiring to exhibit their own work at MACFest please follow the online registration for space www.macfestmesa.com, registration page, or feel free to email info@macfestemsa.com for more information.
Save