At Caring Critters they certainly live up to their name.  I've been in there several times even before they became a SMRBA member. In fact, it was a top priority for me to have them become members of our group. I wanted so many more people to know about them.
I have taken both my girls, Bubby and Moopie, to them. From the time you walk in the door to Caring Critters they are warm and welcoming. Dr. Zimmerman is so kind and gentle. Natasha Roseberry and the staff are so caring. I trusted my babies to their care.  Natasha saw me at the AJ Chamber Business Fair back in January and asked me how my Bubby girl was by name.  How cool it that?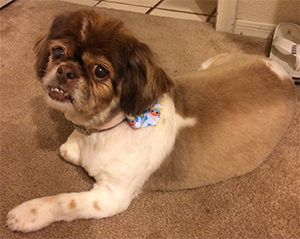 Bubby, our Peke, was 15 1/2 and when she passed they even sent me a condolence card. It's like we're all part of their family, too.
I sent them a 'thank you' card for all their wonderful care and how they helped us with her 'end of life services.' Our Bubby will forever be remembered thanks to them.  To this day my card remains in the lobby of their office.