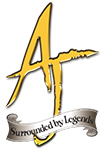 The City of Apache Junction has a contract for getting research data on local buyer behavior and household leakage (revenue being spent outside of AJ). That contract is coming to an end July 31st.
Any business owner or manager who knows their target market and is concerned about the money being spent with businesses outside of Apache Junction, or anyone interested in local buyer behavior should attend this one time presentation.
Elan Vallender, Economic Development Specialist the City of Apache Junction, will be sharing how any business owner or manager can get access to this research before the end of July. That is less than two weeks away.

Come and learn about the research process, then make an appointment with Elan at his office in the City Building to get what you need before the City's contract ends. The presentation will be at Empowerment Systems, 2066 Apache Trail # 116, Apache Junction, AZ 85120, in their Media Room, from 11:30 am to 1:00 pm. No lunch is being served, but you can brown bag it and bring your own.
SMRBA Members, AJ Chamber Members and local business owners and managers are invited to hear this presentation at no charge. The information is available from the city also at no cost to your business. This could be the most important information you receive all year.